An Untitled Composition for Tectonic Spaces
Madrid, Berlin, San Francisco, Basel, Amster­dam, Valencia …
Since 2001, infinitely (relativly)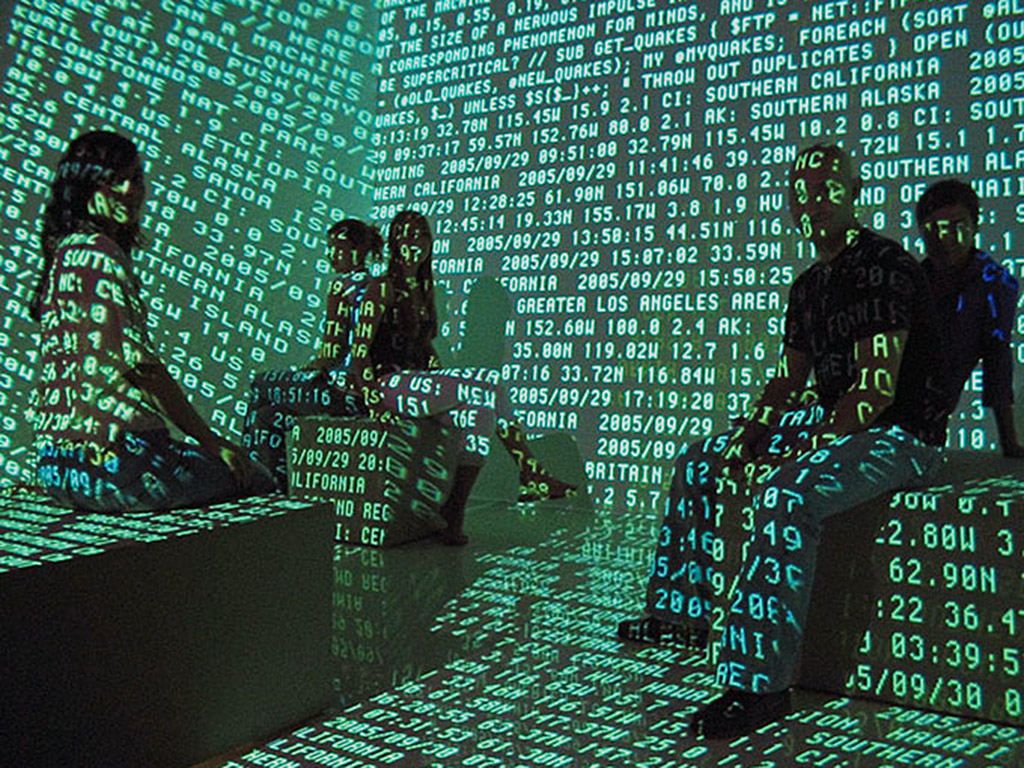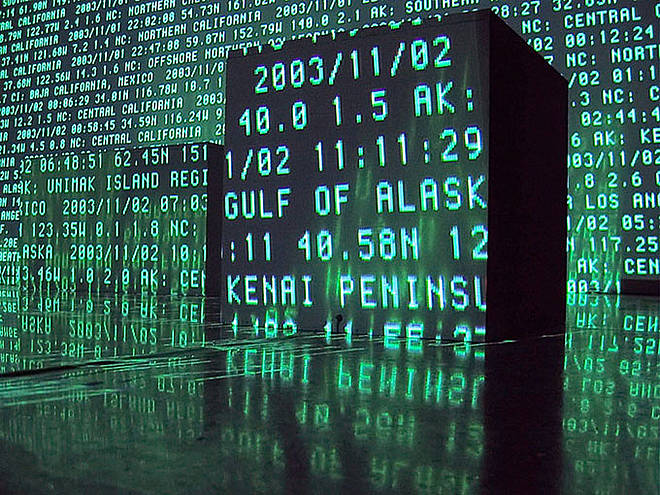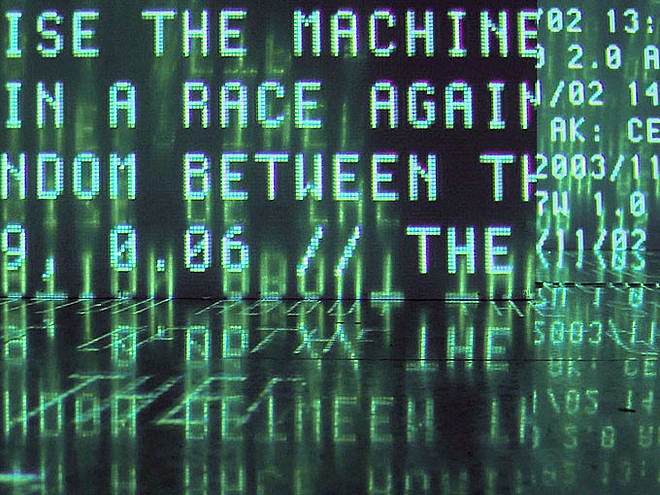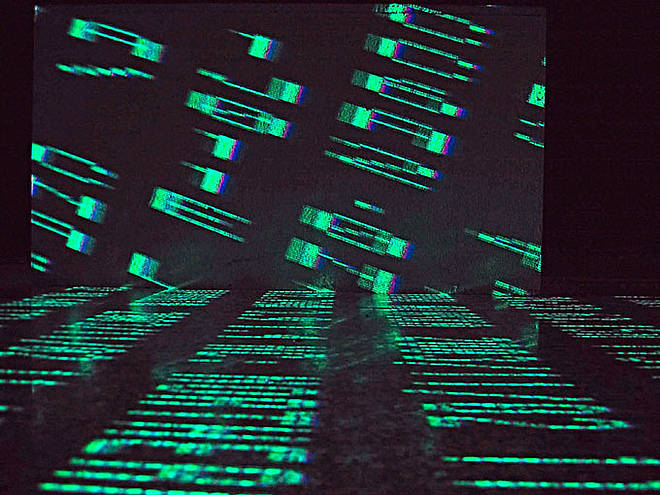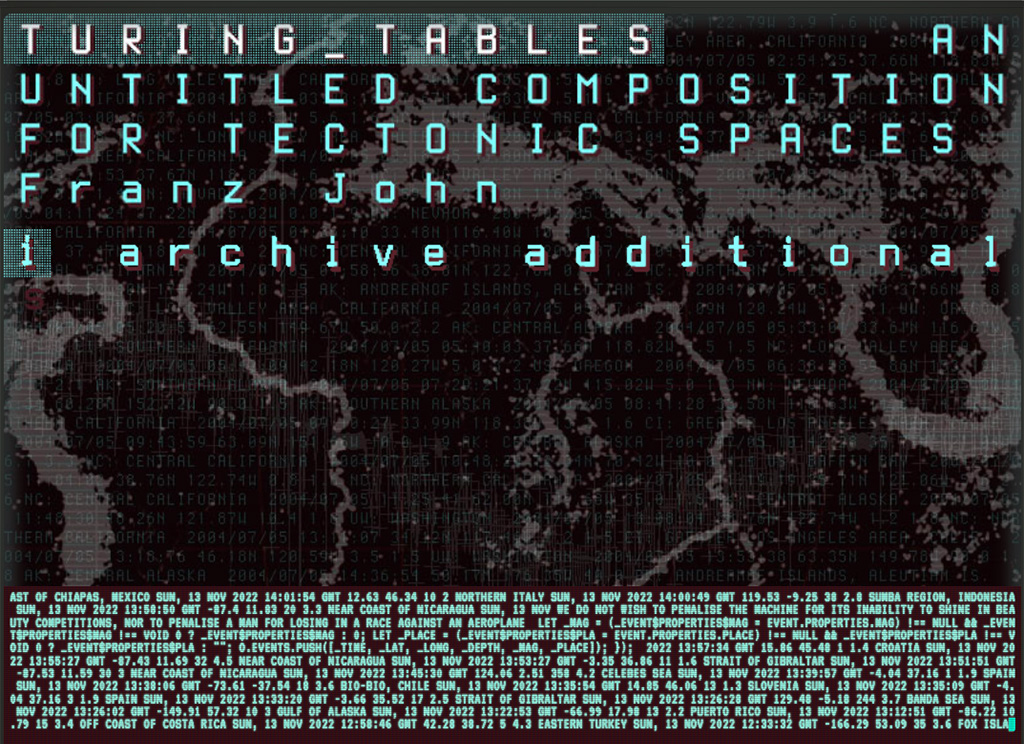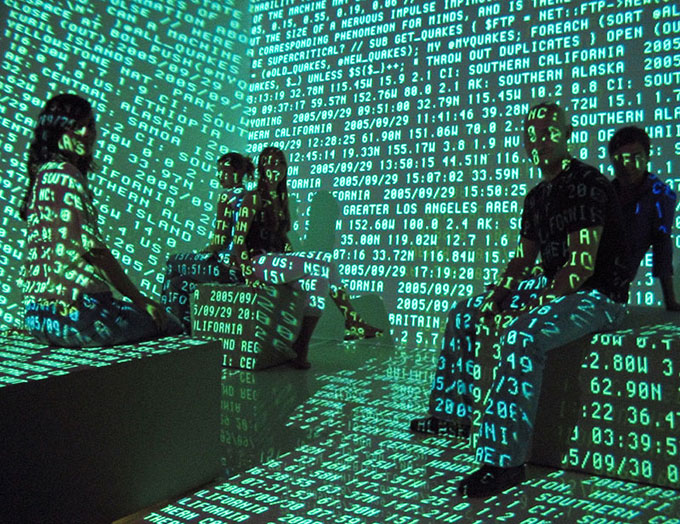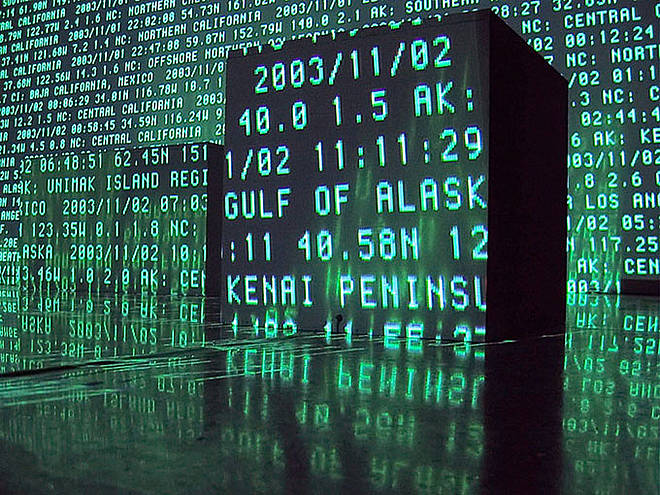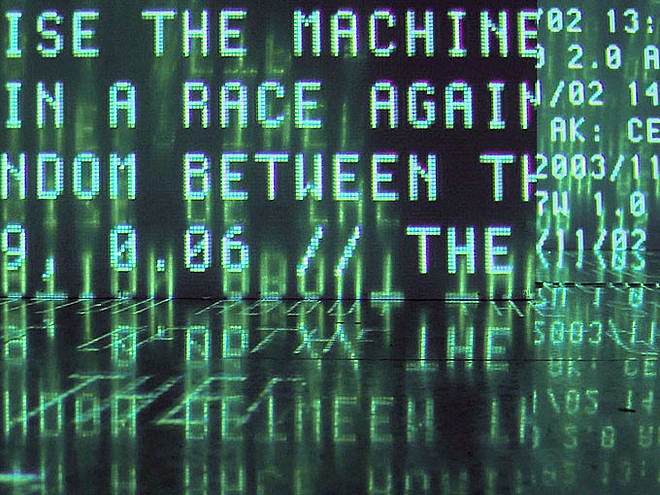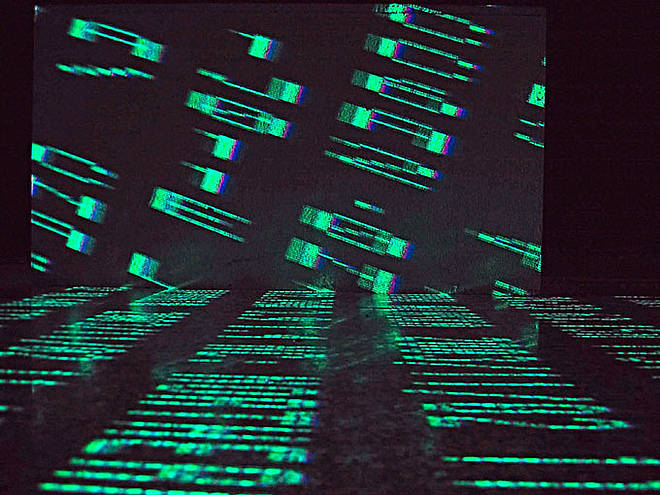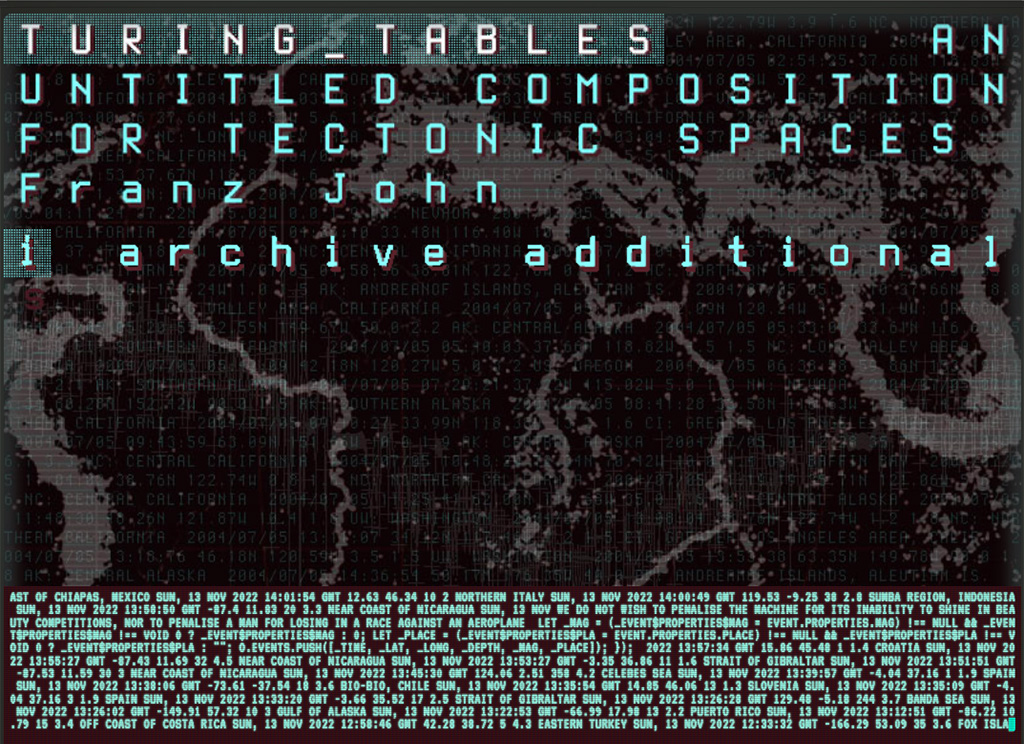 Since 2001, Turing Tables has been shown world­wide at numerous exhibi­tions in galleries, museums and at art festi­vals, inclu­ding the Explora­torium San Francisco (USA), the Media Lab Madrid (ES), the ZKM Karls­ruhe (D), the Edith-Russ-Haus Oldenburg (D) and the Observa­tory Festi­val in Valencia (ES).
Book publication "ERDE",   Kunst und Aus­stel­lungs­halle der Bundes­republik Deutsch­land, 2002, "Don't forget about Earth!",   conver­sation Bernd Busch – Franz John. (excerpt)
Several million earth­quakes of dif­ferent inten­si­ties occur each year. Seismo­logi­cal insti­tutes through­­out the world measure these vibra­tions and ex­change and communi­cate this collected data among them­selves via auto­mated inter­net–trans­fers.It is this meta–per­ception that Franz John makes visi­ble in his project Turing Tables si­phoning this human–machine–com­muni­ca­tion data stream directly from inter­net servers of seismo­graphic insti­tutes and bringing it into his online instal­lation. In a mat­ter of seconds, this instal­lation con­verts these measure­ments from the seismo­logical stations into sound and image. From the per­spec­tive of a "global eye" the inter­net direct­ly con­nects the obser­ver with the pul­sating core of the earth. This pro­ject is there­fore not about the catas­tro­phes that cause these move­ments in inhabi­ted areas, but in­stead about the archaic feeling and conscious­ness that the earth is an organism, that it moves and that it can be under­stood as an organism in con­stant flux. «This artis­tic reali­zation is based on the machine–theory of the mathema­tician Alan Turing(*), wherein my interest is not in the number–chain itself but rather in the tectonic forces and ener­gies of a matrix which is visibly and continu­ally up­dating and re­newing itself.«
Annotation(*): Alan Turing (1912-1954) is today re­garded as one of the most influen­tial theo­rists of early computer develop­ment and computer science.
---
The Turing Tables project was developed over several years through cooperation and exchange with numerous scientists and researchers. Special thanks to: Dr. Charles Estabrook, seismologist, San Francisco; John C. Lahr, seismologist, U.S. Geological Survey; Dr. Winfried Hanka, seismo­logist, GFZ Potsdam; Dr. Udo Thiedeke, sociologist, Universität Mainz, ArtBit. Special thanks also to Mona Mur (musician) and to Dirk Schubert (program­mer) for their collabo­ration on the first version of Turing Tables  2000 – 2002. The current version of Turing Tables (since 2003) was developed in collaboration with sound artist Ed Osborn (Oakland, CA) and brsma (Berlin)
---