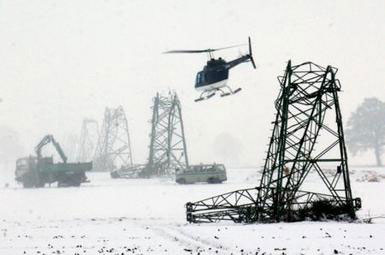 During the night of 25th to 26th of November 2005, the area of Western Muensterland was hit by a heavy snowstorm. Within minutes power poles cracked like matches and their steel cables tore to tatters. Electricity, traffic and the whole communication system – including mobil phones – were interrupted. All of a sudden, time stood still and the whole area – covered by snow – was separated from the rest of the world for several days.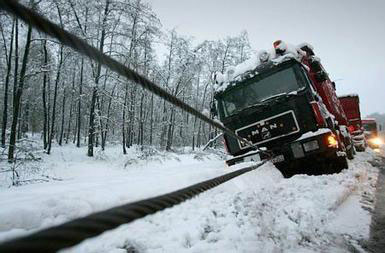 Officials say it was nothing but an extraordinary weather condition, a normal incident – but if you listen to people who witnessed the storm, they will report very weird stories:
- wind blew from continously changing directions.
- the temperature sank within minutes under zero degrees (32° F)
- snow and ice fell horizontally, some say it was like sitting under a rotating ventilator
- some could even hear strange noises – describing it like the fly past of a giant vakuum cleaner
I´m not very much surprised hearing rumours in that area it might have been a comet, a UFO or whatever kind of energy from outer space. Fact is: everything happened within a few hours, the snow spread fast on a small strip of land of just a few kilometers. It appeared to arrive from the Netherlands and stopped – like a big stranded whale – at the westside of Schoeppinger Berg.
How can a heavy storm leave such destruction – and not overcome such a small obstacle? The hill is neither very high (just 150m of altitude), nor very wide (2kms). to its left and right the landscape is flat like a pancake.
Was it a coincidence that the storm stopped and rotated in front of a former Dutch Nike Radar? I'm curious if you academics out there can answer this – or are you having the same difficulty explaining such issues.